The Adirondack-style shingled home, complete with a pond and running stream, holds its own along the estate-studded back roads of New Canaan, Conn. But it is a beauty that's simply the veneer on a highly engineered and efficient home.
"The couple's goals were to build the greenest, most energy efficient house possible," says architect Jim Edgcomb. "This site had attributes they were looking for: natural water features and open areas for photovoltaics, along with beautiful views."
"An indispensable part of our process is making the box as airtight as possible," says Chris Trolle, the project's engineer.The super-insulating process was extensive. Crews insulated the precast concrete walls with 1" of rigid foam board followed by spray foam. The floor slab sits on a 6" bed of crushed stone and 2" of foam board. Above-grade walls are 2x6, 24" OC. Roofing was framed with 2x12, also 24" OC.
Contractors filled the void left by 2x3 strapping in the basement and other parts of the house with spray foam insulation, further increasing R-values (R-58 roof, R-31 above grade, R-39 basement).
Most windows are triple-glazed casements with two layers of low-E coatings and two 1/2" air spaces filled with argon; frames are solid wood and aluminum clad so that they are virtually maintenance free.
Because the clients wanted the visual aesthetic of stained-shingle cladding, they selected FSC-certified cedar from local sources. To increase the durability of this material, the builders installed a special mesh fabric betwee
n the building wrap and shingles, allowing moisture to drain out and away.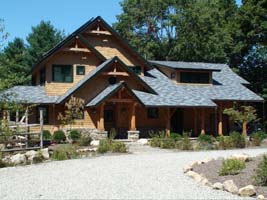 For the roof sheathing, the clients chose a shingle manufactured from recycled rubber. The shingles, which even close-up look like slate, met the client's expectations for sustainability; cost-wise, the roof is comparable in price and durability to a standing-seam metal product.
"Our focus is always on the building envelope, first," says Edgcomb. "Once you have a durable, high-performance envelope, you can add the systems."
"They were incredible clients," acknowledges Edgcomb, and the builder agrees. "They were completely committed to doing the right thing."
In fact, not only did these clients push through a graywater system—the first domestic system approved by the state—they also had a composting toilet installed in the master bath, linked to a composter in the basement.
The resulting home and property is a living green laboratory—it has earned LEED Platinum and NGBS Emerald status—that the clients enjoy sharing with school and university groups, other building professionals, green advocacy groups, and their neighbors.