Green Home of the Year Awards 2013
Best Exterior Integration -
Sonoma, Calif.
This LEED platinum house boasts roof gardens and thoughtful landscaping.
FARM HOUSE VERNACULAR and chicken coops were the design inspiration for the 3,960-square-foot, two-story home. Covered walkways, gardens and a pool link the simple gabled structures into a family compound.
The home is a combination of straw-bale and wood-frame construction, with a living roof—all built to LEED for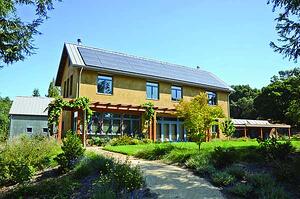 Homes platinum certification.Twelve thermal solar collectors heat the pool as well as domestic hot water. The solar collectors, supplemented with a geothermal system, also heat a subterranean sand heat sink that holds heat for several weeks for space heating.
The 14kW PV array ensures that the home operates with net-zero energy.The site's old swimming pool, once covered, now serves primarily as a 20,000-gallon cistern. The collected rainwater irrigates the living roof, and graywater from the home is also used for irrigation.The 32-acre site is part of an historic farm that will eventually be certified organic.
Bioswales and infiltration basins provide natural irrigation—as well as filtering and recharging ground water.