GREEN HOME OF THE YEAR for 2010

Green Builder's 2010 Home of the Year is not only dazzling to behold, but it's heated and powered almost entirely by the sun.
Timeless. That's one word you might use to describe this striking home set against the wide open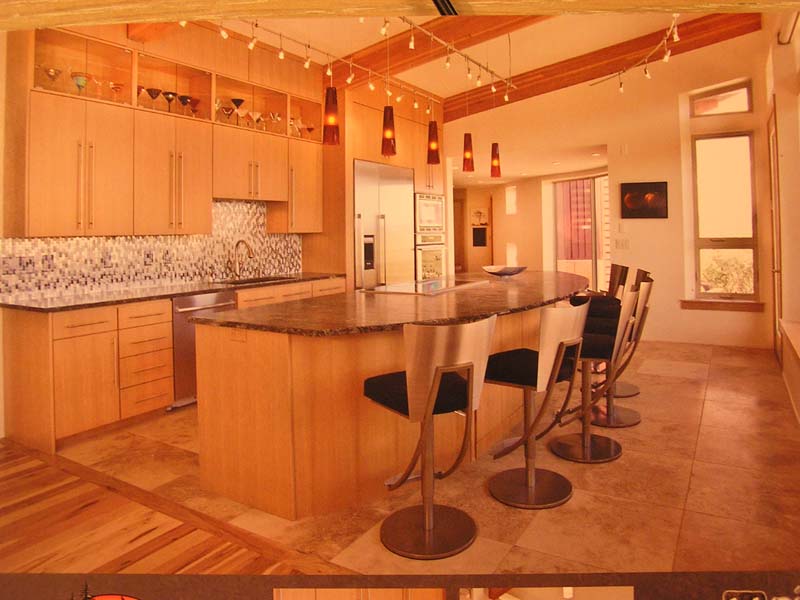 vistas of Park City, Utah. Yet the home, unique as it is, somehow suits its harsh environment. That's no accident. French born, Geneva trained architect Jean-Yves Lacroix borrowed from the best of European concepts—to design a home that could be made with pre-cut components (SIPs), one that would capture the site's stunning views to both North and South—at the same time demanding little external energy or water.
The home is also first class from an engineering perspective. There are temperature sensors inside and outside the house, as well as in each of the 5,000 gallon solar storage tanks. The controller determines where the heat in the radiant floor system needs to go, and uses high efficiency pumps to distribute the heat evenly. Approximately 90 percent of the home's heat and hot water demand is satisfied by the passive solar. The siding is prefinished steel and behind it are tubes that pick up solar heat from behind the siding.
Many other details made the difference in reducing the home's final energy demands. For example, the builder insulated every run of hot water pipes throughout the home, and attached a heat recovery system to the wastewater drain in the master bath. In addition, the baths are fitted with a recirculation system (to provide instant hot water) but instead of the typical systems that run continuously, this one kicks on when an occupancy sensor notices that someone has entered the bath.
"This is something I've wanted to do for a long time," Lacroix says. "Where I was trained in Europe, building is very expensive, so you have to be extremely efficient. But the home was not based on any certain style or local architecture. Instead, it was designed to fit the lot—to make the most of the lot, in contemporary style."
Builder Garrett Strong, assisted by engineer Troy Harvey, took Lacroix's floorplan design to the next level, selecting materials, mechanicals and finishes that would maximize the home's passive solar potential, reduce maintenance, and enhance its good looks.
"We actually went for both the LEED platinum and the NAHB Emerald certifications. The two programs often overlapped. We thought the subs might be nervous about such a challenge, but when we held an initial meeting with all of them, they asked each other questions that proved invaluable: Where do penetrations hit the roof?-- that sort of stuff.
"But the design really extends to the whole lot," Strong explains. "We wanted to make sure the cut and feel of the driveway was right—and to minimize excavation and impact on the 10-acre site. We re-vegetated everything after construction.
"The owners wanted a beautiful house." he adds, "but they also want to educate the public—to demonstrate that a home can be this efficient and aesthetically pleasing-so that you want to live there."
Troy Harvey adds that the home is also first class from an engineering perspective. "We have temperature sensors inside and outside the house, as well as in each of the 5,000 gallon solar storage tanks. The controller determines where the heat in the radiant floor system needs to go, and uses high efficiency pumps to distribute the heat evenly."
Garrett adds that "about 90 percent of the home's heat and hot water demand is satisfied by the passive solar. It's designed so that even on the coldest, minus 11 degree day of winter, the home will never go below about 58 degrees."
"The design is intended to change with the owners," notes Lacroix. "For example, there's a wing for the kids, with two bedrooms and a playroom, and that space is designed so that later on it can be made into an apartment later on. The whole house is very open and flexible."