ONE OF THE more unusual aspects of this sleek, modern home is its inclusion of site-built concrete countertops, locally made with the addition of recycled glass aggregate.
Products
ROOFING: Berridge standing seam metal roof

STRUCTURE: FSC lumber frame

SIDING: Marvin Integrity doors with low-E insulated glass and fiberglass exterior

INSULATION: Owens Corning with EnergyComplete air seal and blown-in batt insulation, Tyvek HomeWrap in main house, PROSOCO fluid applied as air seal and vapor barrier in guesthouse

AIR CONTROL: Open-air wood screen in garage

HEATING: Isokern fireplace, geothermal heat pump connected to a Marathon water heater, tankless Rinnai heater in guesthouse

FAUCETS & FIXTURES: TOTO dual-flush toilets

CABINETS & TOPS: CARB-compliant plywood with low-VOC finishes and no formaldehyde, concrete countertops—locally made with recycled glass

CLEAN FINISHES: Natural stone and stucco with integral color on exterior, Benjamin Moore Natura on interior walls

ALTERNATIVE ENERGY: Locally sourced

LIGHTING: Electric panel designed to incorporate planned photovoltaic array

PAVERS: Locally sourced

For this team,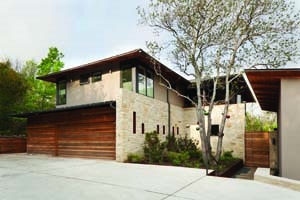 keeping toxins out of living spaces became a key focus. The installation of a geothermal heating system made that task easier—eliminating the need for indoor combustion. Even the fireplace is placed outdoors, keeping flue gases isolated from living spaces. The home is naturally ventilated, and the garage has walls made with gaps that allow exhaust fumes to escape. But health concerns also extend behind the walls. Electricians carefully routed wiring to avoid producing strong electromagnetic fields, and the team evaluated all caulks and sealants—along with paints—eliminating any that included "chemicals of concern" from European watchdog agencies.