The Five D's of Moisture Control: Design, Deflection, Drainage, Deposit and Drying
It is difficult — and in some ways dangerously myopic — to look at moisture management only on an assembly-by-assembly basis, as it is a systems approach to the building that is required to deal with a systems-based natural phenomenon. To that end, we borrow a page from building scientist Dr. John Straube, who, in the book Design for Straw Bale Buildings, contributes a valuable strategy for handling moisture in buildings based not only on keeping them from getting wet, but also by incorporating principles of drying and safe storage within the assembly as well; his is a balanced approach that works with the natural patterns of moisture movement in our buildings.
Here are the "Five D's" of moisture control, in rough order of priority:
Design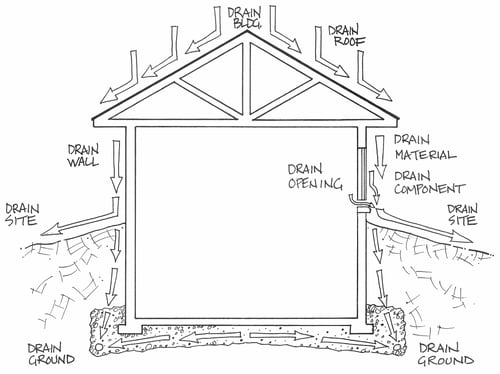 As Straube himself says: "The best moisture control strategies always involve designing problems OUT — not solving them after they have been needlessly designed into the enclosure."3 Troubleshooting moisture problems is rarely as effective and never as affordable as avoiding them in the first place through good design!
Deflection
It is difficult — and in some ways dangerously myopic — to look at moisture management only on an assembly-by-assembly basis, as it is a systems approach to the building that is required to deal with a systems-based natural phenomenon.

The greatest moisture threat is bulk wetting, primarily from rain and snow but also from surface and groundwater. Deflecting this water away from our buildings is therefore the first place to start, and this is the job we ask first of our roofs and overhangs, and then of our water control layer. Further, we ask our air control layer to deflect vapor-laden air from entering our assemblies, either from the inside during the winter or from the outside during the summer.
Drainage
Drainage strategies rely on providing water an easy path away from or out of the assembly once it has made its way through the "first line of defense." This requires gutters, downspouts and leaders (at least 10 feet from the foundation), proper site slope (a minimum of .″ per foot for ten feet), and good foundation drains (ideally, to daylight). Secondary strategies include exterior facade elements such as appropriate flashings, sloped window sills, rainscreens, and window pans. Many roofs are also designed to allow water that makes its way through the primary roofing to safely drain out of the assembly over a well-flashed underlayment. Given the risk of water entry into our buildings, particularly in wet climates, incorporating drainage details into our water control layers is well worth the investment of time, energy, and materials.
Deposit (Storage)
If we assume that we will not be able to execute the detailing of our assemblies to perfection and that some wetting will occur — whether from leaks or condensation — there is a great benefit in using materials that safely store an appreciable amount of water for enough time to allow for drying. This concept requires us to evaluate the hygric properties of our building materials, as described in Chapter 3. Hydrophilic materials that exhibit good durability, such as wood, cellulose, clay, and lime, can provide a "moisture battery" in our walls and roofs to deal with incidental wetting events. However, there are a few caveats here that are very important to address: storage without drying will lead to building failure — if hydrophilic materials inside a wall get wetter faster than they can dry out, the storage capacity will only serve to keep water in the assembly and will be a liability rather than an asset. We should also note that there is an opposing strategy that favors the use of hydrophobic materials, such as foam, steel, and high-density/ sealed masonry, with the idea that water should be encouraged to leave our building assemblies as quickly as possible under all conditions, and not encouraged to be held for any period of time. Plenty of assemblies built with this approach are highly durable, and this strategy is particularly relevant in high-moisture environments and flood-prone sites, where the amount of wetting may overwhelm any storage potential.
Drying
The ability for moisture inside our assemblies to safely dry to the inside or outside — whether or not storage is incorporated — is a critical feature in all but a small handful of assemblies. To provide for drying, first we must understand the direction of the dominant vapor drive for any given season in our climate. We can then select a strategy that encourages drying either to the inside, to the outside, or to both sides. Governing this is the permeability of the materials in our assembly. Vapor-permeable materials must be specified where drying is desired, whereas materials with less permeability (either semi-impermeable vapor retarders or impermeable vapor barriers, if required) can be used to limit or stop vapor diffusion. Developing a strategy for the drying potential of our building assemblies is a critical component of the design phase for moisture control.
---