One of the biggest myths about green building products is that they cost more than traditional building materials. With more new products being introduced to the market, and existing manufacturers finding ways to make traditional products more sustainable, the cost for many products is inching down. Plus, consumers are becoming more aware that spending a little more up front can result in less money expended overall when they factor in energy savings and durability. Here are 9 products we predict will be in most mainstream homes in the next five years.
---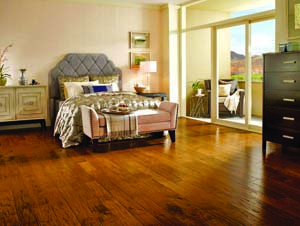 Wood Floors (that Last) for All
A floating hardwood floor is simply a hardwood floor that floats. What's great about this product is that the individual hardwood boards snap together like puzzle pieces, without the need for nails, staples or noxious glues to affix it to the subfloor. This saves on labor and materials. The manufacturer of the floor shown, Armstrong, says installation time is about half that of other methods. Once it is installed, the floor literally floats above the subfloor or underlayment. The product is particularly useful in areas where moisture is a concern, like basements, because you can install a moisture barrier between the subfloor and the hardwood boards. In a floating installation, boards respond to humidity and temperature changes as a unit, and expand toward the walls or contract away from them—as opposed to buckling or bowing as can happen with solid-wood or laminate products. The product can be installed over plywood, concrete, vinyl sheet—even low-pile carpet. www.armstrong.com
---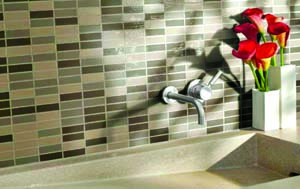 Tile with a Conscience
There's no dearth of recycled tiles on the market, but Crossville offers a few things that will attract sustainable-minded consumers. First, every piece of tile the company produces is made with up to 40% recycled material andusing recycled water. This has made the company a net consumer of waste. Crossville also launched the industry'sfirst tile take-back program, which, according to the company, keeps more than 4 million pounds of used tile out of landfills. Its value-priced EcoCycle Americana Series comes in six earth tones and features Cross-Sheen, the company's proprietary finish, which imparts a color-enhancing glow and seals and fuses tile surface pores—which means they can be cleaned with warm water or very mild, non-chemical cleaners. The tile can be used for interior floors and walls as well as vertical applications on exterior walls. www.crossvilleinc.com
---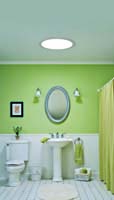 Free Light
Skylights and sun tunnels offer natural daylighting as an alternative to artificial light. VELUX's well-known Sun Tunnel skylight delivers bright natural light and offers easy installation. The product comes in both rigid and flexible tunnels for installation ease, and the company incorporates argon gas between the insulated panes and uses low-emissivity coatings (low-E) to keep conditioned air where it belongs. www.veluxusa.com/consumer/sustainable_living
---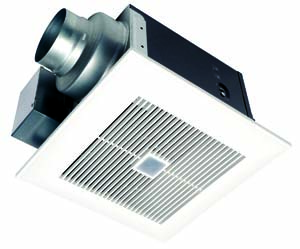 Energy-Efficient Ventilation
Panasonic offers an affordable line of high-performance ventilation fans that offer energy efficiency and quiet operation. The WhisperGreen fans can be used for spot or whole-house ventilation, exhausting mold, mildew and pollutants to improve overall indoor air quality. The fans are rated up to 871% more energy efficient than Energy Star standards, and feature a DC motor—which saves energy. They also feature a proprietary technology that detects and compensates for increased static pressure, along with variable-speed control and delay timer. An energy-saving motion-sensor model is available.
http://tinyurl.com/a27pq2b
---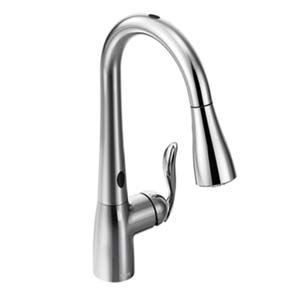 Water Savings Made Easy
The Moen Arbor pull-down kitchen faucet offers two things that appeal to homeowners: one—a motion sensor to keep kitchens cleaner and make everyday tasks easier (with simple hand movements, a user can activate water flow); two—it boasts flow-optimized eco-performance, which means the product uses up to 32% less water without sacrificing performance. The product also offers a pause function, a powerful cleaning rinse—and is ADA compliant. www.moen.com
---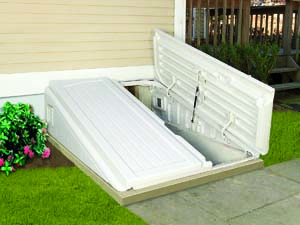 Weatherproof Security
Bilco Ultra Series basement doors provide safe and code-compliant basement access, weather-tight performance and easy operation—all with virtually no maintenance.
The Ultra Series door will never rust, rot or need painting. Its simulated wood texture and pleasing driftwood color complement the exterior of any home, and the interchangeable side panel inserts allow homeowners to easily add light or ventilation to their basement entry area. www.bilco.com
---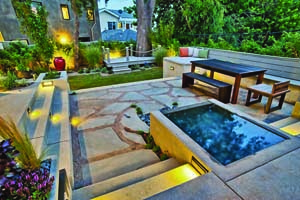 Green Rock
Green Rock is the landscape industry's first landscape decorative rock derived from 100%-recycled concrete. The product is a beautiful and environmentally sensitive substitute for quarried natural stone. The product's unique color and texture comes from its special blend of concrete roofing tiles, concrete paving stones and concrete blocks that have been recycled from damaged, unused materials.
www.greenrock.us.com/products
---

LED Revolution
It's been a long time coming, but the quality of LED lighting is fast catching up—offering both the warm light of incandescent bulbs and a price comparable to CFLs. Aurora Lighting is fairly new to the United States market, but it is making big strides with its energy-saving LED solutions. Of note, the company's retrofit LED bulbs offer a wide range of options, including dimmable and non-dimmable, 45,000-hour extra long lamp life and multiple sizes: standard, MR16, GU10, PAR16, PAR20, PAR30 and PAR38. These retrofit products work with existing cans, with a combined trim and light source, and are UL- and Energy Star-approved. http://tinyurl.com/ajlumqj
---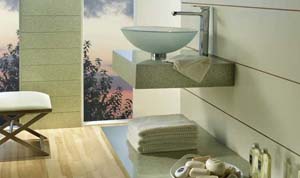 Composite Countertops
Quartz countertops have the sophisticated look home buyers crave for kitchens and bathrooms. The quartz countertops from DuPont Zodiaq are an especially wise sustainable choice because they marry beauty and durability in a product that is more affordable than some of the boutique composite tops. The great thing about this product is its durability. The smooth, nonporous engineered tops are resistant to heat and scratches, and do not require noxious sealants or waxes to keep their luster. They have a hardness of 7 on a scale of 1 to 10 (with diamonds being 10). The Terra Collection, shown here in Wintergreen, uses up to 25% post-consumer recycled content. http://tinyurl.com/yakmsql
---
© 2016, Green Builder Media. All rights reserved. This article is the exclusive property of Green Builder Media. If you would like to reprint this content, you are free to extract a short excerpt (no more than 1/4th of the total article), as long as you 1. credit the author, and 2. include a live link back to the original post on our site. Please contact a member of our editorial staff if you need more information.