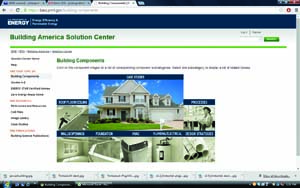 OVER THE YEARS, the Department of Energy's Building America (BA) program has filled a critical gap by funding research on innovations for high-performing homes, both new and existing. But the biggest obstacles to advancing building science are not technological, says Sam Rashkin, the DOE's chief architect of the Building Technologies Office. The larger hurdle is market adoption, which has several facets, including an inadequate number of skilled professionals. After all, this critical research doesn't do any good if only a select few people know how to access and implement it.
That's where the Building America Solutions Center comes in. This website and database, which went live in January of last year, presents 20-plus years of research into a user-friendly format.

"It's better, faster, cheaper," says Rashkin, and represents a "complete flip" from the old library, which contained fixed, difficult-to-navigate content. Through the new interface, users can filter searches according to building components, download images, CAD files and case studies or jump straight to the Energy Star checklist. The Solutions Center already has a built-in set of users from the Energy Star and Zero Energy Ready Home programs, but anyone can access the site. Registering is free and allows users to access all the content—and even add to it.

For example, if someone has knowledge about a technique that's specific to a particular climate zone, he or she can submit a comment clarifying, correcting or adding to the information already present. The comment is then peer reviewed, and if accepted, the original content is updated to reflect the new information.

"What's really going to make this 'grow up' is the user feedback," says Rashkin. That and the addition of new research results and case studies, which BA teams and the National Laboratories will continue funneling into the site.

Visit the Solutions Center at www.basc.pnnl.gov.
Another Integrative Tool A new standardized data transfer protocol called HPXML allows home performance software programs to "talk" to each other.

Many software platforms are available for recording the results of home energy audits and analyzing home energy performance. But because states and utilities have adopted different tools for compiling and analyzing data, home performance companies that participate in multiple utility programs or regions need to be proficient in several. This means added training cost and IT infrastructure. Fortunately, the Standard for Home Performance-Related Data Transfer, informally known as HPXML, was published in June 2013. This tool, developed by the Building Performance Institute (BPI) and National Home Performance Council [with support from the National Renewable Energy Laboratory (NREL) and many other stakeholders], facilitates communication and the exchange of information among contractors, raters and other actors in the home performance industry by providing a standardized format for collecting and presenting data.

"The potential for reducing contractor costs is the most important end result," says Robin LeBaron, senior advisor for policy and research for the Home Performance Coalition.

Using this software standard slashes paperwork and processing time, and could potentially reduce the overhead required to participate in high-performance home programs by 20 percent. LeBaron says HPXML also provides a platform for drawing more precise correlations between measures implanted and energy consumption. The standard has been pilot-tested in New York, Virginia and Arizona. Learn more at www.hpxmlonline.com
zxcvzxcvzxcv
---
---
© 2016, Green Builder Media. All rights reserved. This article is the exclusive property of Green Builder Media. If you would like to reprint this content, you are free to extract a short excerpt (no more than 1/4th of the total article), as long as you 1. credit the author, and 2. include a live link back to the original post on our site. Please contact a member of our editorial staff if you need more information.