LAKE MEAD IS LOW, and if it weren't for a delay in water transport to Mexico, it would be even lower. Mexico owns some of the water in the Lake (strange as that may seem), and is storing water while it rebuilds canals and other infrastructure damaged by a 7.2-magnitude earthquake near its own Colorado River borders.
Low water, as the National Park Service points out, does not mean no water. But there are experts who believe that Lake Mead may eventually dry up completely, unless drastic water conservation measures are taken.
A February 1, article in The Week called the current lake level "The unprecedented water crisis of the American Southwest." The article cites the 14-year drought "unprecedented in 1,250 years."
For the first time since the United States started managing the Colorado, the amount of water flowing from Lake Powell to Lake Mead will be reduced by 750,000 acre feet. Lake Mead's level is 1,106 feet; if the level drops below 1,000 feet. the lake would be below the level of the intake pipe that feeds the water to several states downstream.
The Lake Mead Water Database tracks the level of water in great detail: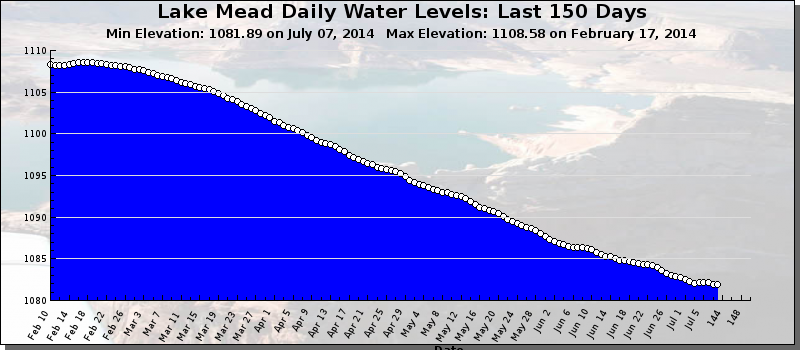 ---
Have an idea for a guest blog for Green Builder Media? Click here to become a blogger.