Garden Therapy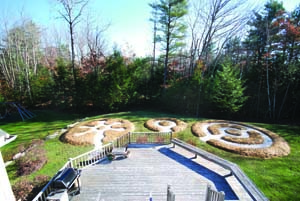 The client on this project, a mother of five, is a social worker committed to providing her family with nutritionally dense foods. The edible garden is designed to produce a healthy variety of vegetables, fruits and berries. The circle gardens are easily accessible from the kitchen, and seen with a bird's eye view from the upstairs bedroom.

This keeps the client attuned to the life unfolding in the garden below. Such dynamic integration provides a "horticultural therapy" environment

Mandala-type garden designs are inspired by patterns found in nature. They can be either circular or square edged, and offer various advantages—particularly for intensive, small-space gardening:
Dense crop association in varied patterns permitting an improvement of soil building, pest control, etc.
Maximized edge effect as trees are associated toveggies, tubers, water area, or whatever you want to put in it
More space for growing, because the ratio of path to garden is less
Less water waste
Allows for (if wanted) no-dig agriculture Ease of maintenance/attention to plants
Courtesy of appropedia.org
---
Have an idea for a guest blog for Green Builder Media? Click here to become a blogger.