The confrontation over resilient construction practices is just a continuation of the age-old battle between those who search for ways to maximize short term profits versus those who choose to deliver lasting value.
Another battlefront is taking shape on the already crowded fields of conflict that define the relationship between the regulatory sector and the homebuilding industry. This is in no way intended to suggest that the ongoing battles around energy codes, proposed fire sprinkler mandates, storm water management, wetlands designations, silica rules, endangered species, updated overtime compensation requirements, and a host of others have been resolved, or that they have even been quieted significantly. We simply have another brewing fight to add to the list…the call for more resilient buildings.
Following a White House conference this Spring on how to pass building codes that provide more resilience, the response from a representative of the National Association of Home Builders echoed the familiar refrain that the codes have essentially been hijacked by the product manufacturers so that the poor beleaguered home builder will be forced to purchase their latest products in order to comply. Soon after, the organization's message to its members on the topic appeared benign enough, reporting simply that the White House event had taken place, but it also included the predictable assurance that the members' interests would be looked after by vigilant monitoring of the situation.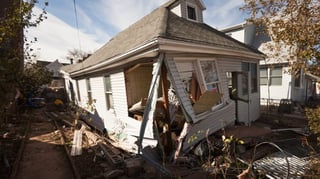 I am reminded of a project along the upper Rio Grande a few years ago on the lands of one of the Native American pueblos a few miles north of Albuquerque. The pueblo committed to build a new church and as part of the design criteria required that it be engineered and built to last "a minimum of five hundred years".

Sure, the pueblo's governing council was concerned about upfront costs along with a vast number of aesthetic, structural, historic and cultural considerations, but their insistence on constructing a building, in this case a house of worship, that would endure for generations speaks volumes about their values as a society.

The coming battles over resilient houses and buildings are really little more than reruns of the age old struggles between those who search for ways to maximize short term profits over choosing to deliver lasting value.

The homebuilding industry is quick to recognize and happy to benefit from the complexity of the resiliency issue, and this promises to be a long fight. Given the wide array of potential environmental disasters, from extreme weather events, seismic issues, and wildfires, to seasonal flooding, ground subsidence, erosion and rising sea levels, already challenging enough before mixing in the myriad of stakeholders, public and private, and special interests that must find ways to address the growing need for more resilient building solutions, it is a safe bet that resolutions to these expensive and devastating events will be slow to emerge.

In the meantime, it will remain easier and more expedient to blame those devious product manufacturers, the White House, FEMA, the insurance industry, Mother Nature, Lady Luck, or heck…even the weatherman, rather than share the responsibility and try to be part of the solution.
---
© 2017, Green Builder Media. All rights reserved. This article is the exclusive property of Green Builder Media. If you would like to reprint this content, you are free to extract a short excerpt (no more than 1/4th of the total article), as long as you 1. credit the author, and 2. include a live link back to the original post on our site. Please contact a member of our editorial staff if you need more information.